Best Hydrophobic Spray for Sneakers? Water-Based or Aerosol?
Posted by FARHAN ZAINI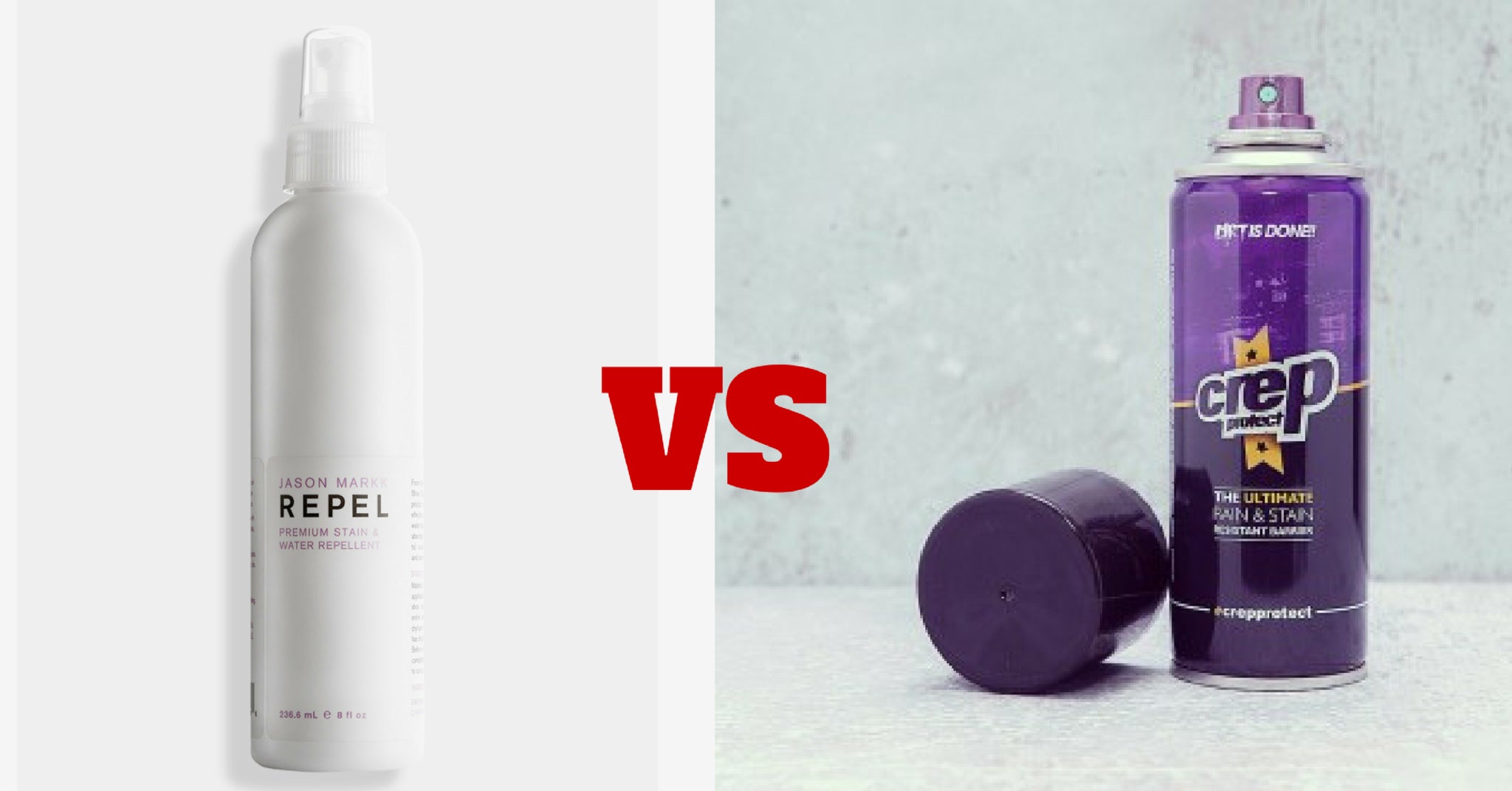 This is less of a review of Jason Markk versus Crep Protect but more of my personal view on my preference. I have had customers asking me if a water-based spray is better than an aerosol spray, vice-versa. Here's an article to summarise the pros and cons between the two types :)
I have used both of the sprays extensively in the beginning as they were the two powerhouse brands of sneaker protection. Jason Markk was the pioneer and Crep Protect was the foreign incumbent from the UK. However, both have grown to be a leader in their own right.
In case I have some noobs reading, Jason Markk utilises a water-based spray whereas Crep Protect utilises aerosol.
Both products works exactly as intended and will repel water and minor stains. What we need to distinguish between the two is then, if a water-based spray works better than the other.
There is one big negative in using a water-based spray.
CONS of Water-Based Water Repellent Sprays
There is a high-risk of uneven coating of the repellent. Unlike aerosol, which allows you to continually press the head of the spray can, resulting in a continued release of repellent, a water based spray will release a spurt of repellent on one "press". You will need to continually "press" in order to coat the whole shoe. Being water based, if you hold it too near or press it too hard, you risk coating one area more than the other. Worst, you could over-apply on some areas resulting in splotchy marks. That happened to me once on a white pair of sneakers, and I stopped using water-based since then.
Pro Jason Markk users will probably fault me for using it wrongly, but this article is for new and old sneaker lovers. First timers will probably find it hard to get the distance between spray and sneakers right, and I just want to highlight the potential risks.
CONS of Aerosol
Some have argued that water-based sprays allow for more breath-ability. However, I have yet to see any of my kicks, sprayed on with aerosol water repellents, to have any visible degradation. 
Even for Aerosol, there is still a risk of splotches but much less so. 
VERDICT
If you are asking for MY opinion on which is better, I will go for Aerosol sprays. It will help you to get a much more even coating on your shoes, and there is a low risk of splotches.
Check out our most popular laces collections. 
- 3M Reflective Rope / Flat Shoe Laces
Visit us at www.slickieslaces.com Singapore's and South East Asia's Premier Brand of Shoe Laces. If you have any other ideas on matching colors and would like to recommend some other laces, feel free to drop me an email.
Collection 2019
Sale 70% Off
Title for image